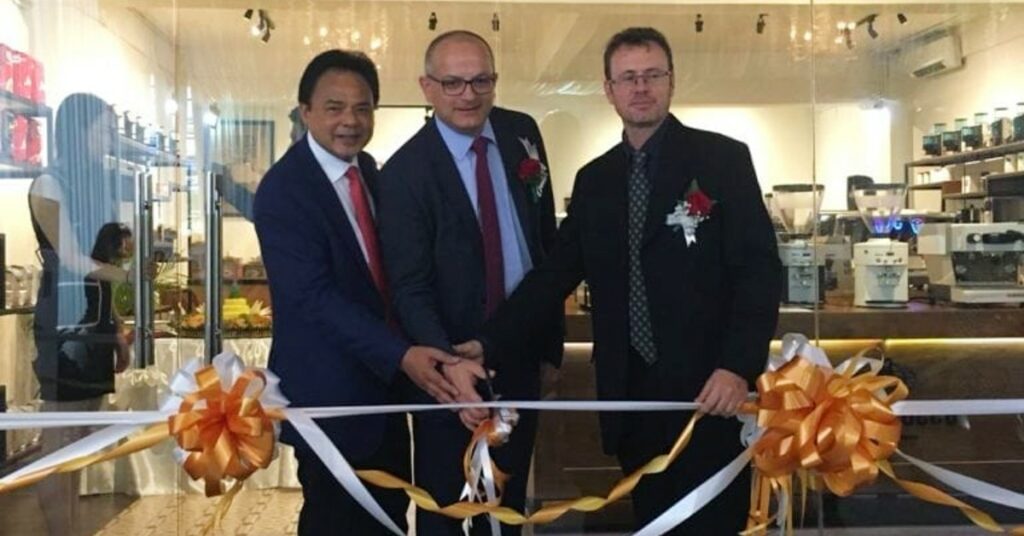 19th April 2018, Jakarta – PT Bon Café Indonesia is proud to announce its grand opening in Indonesia, Jakarta.
With this grand opening, it marks the beginning of Boncafé Group of Companies in Indonesia and further strengthens the Boncafé presence in the region.
Strategically located in Fatmawati, one of the most eminent business and commercial district of South Jakarta consisting of lines of offices and shopping complex, PT Bon Café Indonesia is poised to expand its foothold in Indonesia.With a distinctive orange facade, the building provides a striking look and offers an easily recognizable appeal.
The modern four-storey building with its minimalist design, houses the passion of PT Bon Café Indonesia to become the leading one-stop coffee and beverage solutions for all industries. On the ground level, the showroom showcases bean-to-cup coffee machines from renowned brands such as La San Marco, La Marzocco and Thermoplan which are ideal for luxury resorts, hotels, restaurant and cafés. Domestic coffee machine models and capsule machines are also featured. Besides equipment, we also offer a diverse range of Boncafé products, Segafredo Zanetti a brand synonymous in the world of Italian Espresso Coffee as well as Caswell's Coffee, a leading specialty coffee brand in Indonesia, which are bound to excite you.
On the second level is the Caswells Coffee Lab, a Specialty Coffee Association (SCA) and Coffee Quality Institute (CQI) certified training lab. It is the ideal place to learn and taste a wide range of specialty coffees from around the world and is also the perfect facility to provide coffee training for those who keen to be certified with professional accreditations. The office and the sales warehouse and after-sales service are situated at the third and fourth storey respectively.
Sharing his thoughts with excitement, Peter Slack, Managing Director of PT Bon Café Indonesia said, "With the grand opening and the new showroom, customers can now have the Boncafé experience and are able to view and select coffee machines and excellent products from reputable brands all in one location. This is made possible because of the acquisition, bringing Caswells into the big family of Boncafé Group, which gives us the perfect platform to harness the rapidly expanding middle class rising coffee consumption."
"Indonesia being the fourth largest coffee producer in the world possesses a colonial history of vibrant coffee drinking culture, of which the consumption of branded gourmet coffee is growing on a rapid pace amongst the younger discerning Indonesian consumers. I'm very excited to embark on this journey with my team in Indonesia to realise our strategic business goals together," said Joe Mohan, Chief Executive Officer of Boncafé Group (ASEAN & East Asia).
"PT Bon Café Indonesia represents an important milestone in the Massimo Zanetti Beverage Group's strategy to expand its presence and business development in Asia. Coffee consumption is growing very fast in Asia and particularly in Indonesia. We are very proud to open at an outstanding location to serve our clientele and my heartiest congratulations to the entire Boncafé team for this achievement. The Group will pursue its strategic development in this part of the world with determination and passion. "said Pascal Héritier, Chairman of Boncafé Group and Chief Operating Officer of the Massimo Zanetti Beverage Group."
About PT Bon Café Indonesia
Acquired in September 2017 by Boncafe Group of Companies, PT Bon Café Indonesia, previously known as PT. Caswells Indonesia, continues to grow as a leading specialty coffee companies providing a one stop coffee solution by supplying roasted and ground specialty coffee along with renowned coffee machine equipment support for its cliental base with comprises with hotels, established restaurants and cafes.
Caswells Coffee Lab, was accredited as Indonesia's first Specialty Coffee Association (SCA) Campus on December 1st, 2015, and closely collaborating with SCA, the world's largest coffee trade association to bring their expertise to Indonesia. Caswells Coffee Lab is also licensed to host both internationally recognised, SCAA Pathway Programs and the Q Grader Certification Course designed by Coffee Quality Institute (CQI).
Boncafe Indonesia team comprises a group of highly experienced personnel which includes 4 Certified Q graders, 2 SCAA Star Cuppers and a World Barista Championship (WBC) Certified Sensory Judge.
About Boncafé Group of Companies
Boncafé Group of Companies is part of the Massimo Zanetti Beverage Group – a public listed holding company in Milan, Italy – founded and chaired by Massimo Zanetti.
Founded in 1962 in Singapore, Boncafé is a leading gourmet coffee manufacturer and supplier in ASEAN, East Asia and the Middle East. As the pioneer European-style gourmet coffee roaster in Southeast Asia, and guided by the Swiss tradition of precision and pursuit of perfection, Boncafé prides itself on its quality products and services to its valued, blue-chip customers in foodservice – international hotels and resorts, airlines, restaurants, clubs and retail outlets by being a one-stop beverage solution provider, supplying roasted and ground coffee, tea, juices, ready-to-drink products, sauces and syrups, coffee machines, smoothies and frappé mixes.
Boncafé is also the official importer and marketer of Segafredo Zanetti Coffee. Dedicated to constant research and advanced roasting facilities, Segafredo Zanetti reconciles tradition and innovation to produce the best coffee beans possible. The brand's mission is to spread the taste and Italian "espresso" culture to the whole world.
About Massimo Zanetti Beverage Group
The Massimo Zanetti Beverage Group is a holding company founded and chaired by Massimo Zanetti. It comprises a vast network of companies, in continuous and rapid growth on a global scale.
The Group manages every step of the production cycle of its own coffee, guaranteeing consistent, top-of-the-range quality and service worldwide. The entire roasted coffee value chain is controlled by the Group, from the procurement of the raw material, to its roasting, and eventually to the marketing and logistics of the products and their marketing.
Massimo Zanetti Beverage Group encompasses a number of well-known international brands, which are very popular among the biggest world distributors. Most of these are leading brands in their specific area or sector, offering a rich variety of high quality regional products, including coffee, tea, cocoa and spices. The companies make the most of Massimo Zanetti Beverage Group's technological knowledge to design and manufacture professional bar and automatic machines for office coffee services. The chain is completed by a constantly expanding global network of coffee house franchises.